Thugs of Hindostan Has Become The Most Popular Movie In India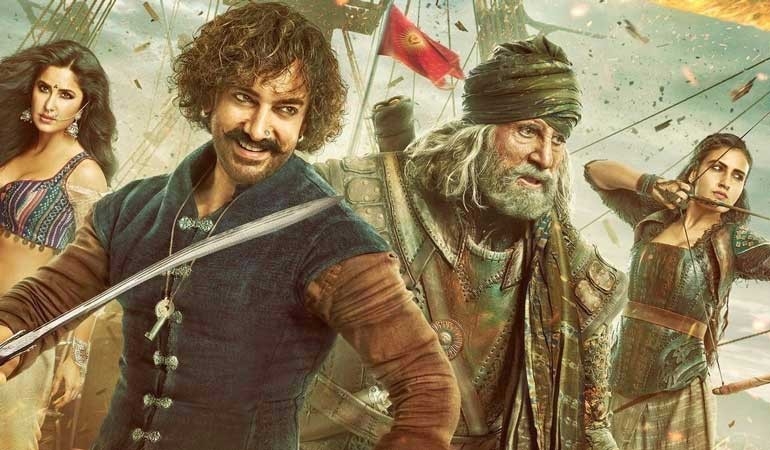 In Diwali, Amir Khan Aamir Khan's new film Thugs of Hindostan announced the first day of the box office more than 500 million rupees, successively set a number of box office records which is the highest box office on the first day of Amir Khan's works, and the highest box office record on the first day of the history of Hindi films. It is also the highest record of the Indian film box office in India.
Thugs of Hindostan's background is set in India in the 1930s, telling the rough life of a liar. In the previously exposed trailer, it can be found that Mi Shu once again boldly subverts his image, with a curly hair, a nose ring, two upturned moustaches, riding a white scorpion, sometimes playful, sometimes revealing The insidious smile makes it hard to guess what role he plays in the film is exactly evil.
Once starred in Gita in Dangal, and the new generation actress Fatima Sana Shaikh, who has cooperated with Ms. Mi, also subverted a heroic woman in the film. The pirate, the bow and the arrow angered the uncle Mi; another sexy actress Katrina Kaif who had a close performance with Mickey in Dhoom:3 also participated in "India" The performance of the Thugs also appeared in the film as a sexy dancer, and there was a very hot dance performance with Ms. Mi. These two female characters in the film and Ms. Mi will also show how to love the hateful code, it is also very much looking forward to.
It is reported that the Indian Thug production costs as high as 3 billion rupees, about 300 million yuan, the investment cost is comparable to Hollywood blockbusters. On the day of the Indian Diwali release on November 8th, a large number of loyal fans and fans dressed in gorgeous costumes entered the theater to enjoy the film, setting the highest record for the Indian film list in Japan, and receiving more than Rs 500 crore a day. At the box office, it is expected that the Indian Thugs will once again set off a whirlwind of Amir Khan.